Karman Cabinets - Cabinet Making North Shore Sydney
Alex Henderson
49/5 Ponderosa Parade, Warriewood NSW 2102
m: 0403 341 993 f: 02 9997 6208
e: [email protected]
About Karmann Cabinets
Karmann Cabinets was established by Alexander Henderson in 2006 in Warriewood, Sydney. During renovations of the family home in Melbourne during the late '80's, Alex gained an interest in building and construction. Throughout High School he focused his attention on wood work, and in his HSC year finished in the top 10% of the state for Design and Technology. In 2001 Alex completed his trade course of Detailed Joinery at the North Sydney Institute of TAFE, with the highest overall completion mark in NSW.
Karmann Cabinets take pride in each piece that leaves their factory door and value an old-school pride in workmanship approach. The staff undertake every project with the mindset of creating a piece of furniture that they would be proud to have in their own home and display to their family and friends.
Karmann Cabinets are dedicated to providing their customers with high quality, custom made joinery. In an industry where the trend is building furniture to a price, not a standard, Alex recognised an opportunity to buck this trend, and forge a different path, emphasising a "quality first" mantra.
The Name
Karmann Cabinets is inspired by the legendary Karmann coachbuilders of Osnabrück in Germany, who are renowned for their quality, and working with some of the worlds best design houses, including Ghia, Bertone, Pininfarina and Giorgio Giugiaro.
The Tree Logo
The Karmann Cabinets tree represents three concepts. The obvious one being timber, the primary product used in the manufacture of fine furniture. The tree is also a symbol the Forest area of Sydney, where Alex lived during his later high school years, throughout his apprenticeship, and through to the early years of establishing Karmann Cabinets. During this time in "the Forest", many valuable friendships were established. These friendships, as well as family (of which the tree also represents), have provided invaluable support during the inception and growth of Karmann Cabinets.
Why Choose Karmann Cabinets
We're Australian.

Karmann Cabinets is proudly an Australian owned company, and all of our furniture is Australian made.

We're a small company.

We usually only have a few jobs on the go at any one time, so your project won't get lost in the queue. Call us at any time and we'll be able to give you immediate feed back on how your job is progressing. The company director works on the shop floor, is involved in every job, and its development.

In house design service.

When you're investing in a new item for your home or office, we want to make sure you get the best possible result, both visually and functionally. That's why we have our own designer who can come to you and discuss your requirements, and then present the design concept to you via computer aided drawing. In the same way that an architect designs the house for the builder to make, to get the best results, you should have a specialised designer, draft your joinery for the cabinet maker to construct.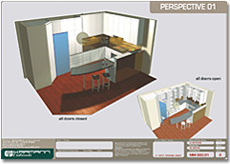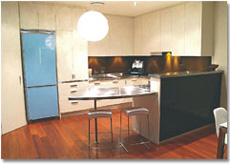 Superior construction.

All of our cabinets are screwed together, not pinned. Screws are zinc coated, to prevent them from rusting. Pins are not, and thus they attract moisture, and rust, as well as making the surrounding material susceptible to rotting away. We certainly don't use knock down fitting on our custom joinery. All wall fixed cabinets are glued for extra strength.
Our plinths (kick boards) are made of solid construction, and are scribed and levelled to the floor. Solid "ladder" plinths are much stronger and stable than plastic adjustable feet. Another advantage of a scribed solid plinth is it will prevent insect penetration. In wet area such as kitchens and bathrooms these are silicon sealed to the floor to prevent moisture from getting underneath the cabinets.

Best suppliers.

Wherever possible Blum hardware is used, because they are the superior manufacturer of hardware. Cheaper hinges will sag over time, but all Blum products come with a life time warranty. We purchase from the Laminex group, because they have a wide range of quality products, and consistently deliver on time.

Reliable contractors.

We demand the best from ourselves, and expect likewise from the contractors that we work with, and recommend. From our French polisher and stone mason, to our electrician and stainless steel fabricator, we have a great network of high quality tradespeople who work to an equally high standard, and work with us to ensure your project is completed on time.

We'll clean up after ourselves!

This may sound simple, but let's be honest; tradespeople don't have the greatest reputation for cleanliness! Even for the smallest of jobs we'll bring a vacuum and our box of cleaning products. We have blankets to protect your floor boards, and drop sheets to cover your carpet. When on site, we connect our power tools up to our portable extractor to minimise dust.

Passion.

Simply, we love what we do, and take pride in our work.